TECHNICAL SERVICE BULLETIN #160
May 17, 2022
Provided By: e*thirteen Technical & Engineering Dept.
Direct Questions To: support@ethirteen.com
Download full TSB here: TSB #160
INTRODUCTION AND CHANGEOVER TO GEN 2 7 SPEED CASSETTE
THIS TECHNICAL SERVICE BULLETIN IS INTENDED FOR:
Distributors, dealers & end-users
PRODUCT INCLUDED
e*thirteen LG1 DH Wheels and hubs using 7s integrated driver.

e*thirteen part numbers: WH3LRA-105, WH3LRA-108, WH4LPA-109, WH4LPA-110, HB3LRA-100, FWS10-104.
PRODUCT NOT INCLUDED
e*thirteen wheels and hubs using traditional style drivers - XD™, Microspline™, and HG™
BACKGROUND
e*thirteen's Gen 1 Integrated 7s DH 9-21t cassette was released 5+ years ago to allow for wider hub flange spacing on DH rear wheels resulting in stronger and more reliable rear wheels. The incorporation of the 9T cog also allowed for DH bikes to use smaller front chainrings, permitting improved ground clearance and reduced likelihood of ring damage.

In Q2 of 2022, e*thirteen's Gen 2 Integrated 7s cassette is being released and will begin shipping on complete wheels, and as a service part for replacement. There are updates to the gearing, finish and shifting.
KEY POINTS
Product:

Gearing updates: Gen 1 7s driver used a 9-21 gearing. Based on feedback from our world cup athletes, the Gen 2 7s driver has been updated to a 9-24t gearing. Our racers wanted a wider gearing range, but needed to maintain the tight gearing jumps on the high end of the cassette for their race runs.

Shift quality improvements: Notable shift quality improvements have been made to the new 9-24 7s driver which incorporates shift features found on our highly acclaimed Helix Cassettes.

Finishing improvements: Gen 1 7s cassettes used a black oxide finish. Gen 2 7s driver uses nickel plating for improved durability, corrosion resistance and a more technical appearance.

SKU Changeover:

Complete wheel & hub SKUs using our 7s cassette will not change

Gen 2 cassettes will be a running change on complete wheels/hubs

Service part SKUs will change:

Old Gen 1 7s cassette:

FWS10-104

is discontinued and no longer available.

New Gen 2 7s cassette:

FWS20-121

- e*thirteen | 7sp cassette | fits LG1 7sp rear hubs only | 9-24T | silver / EAN 4711280340613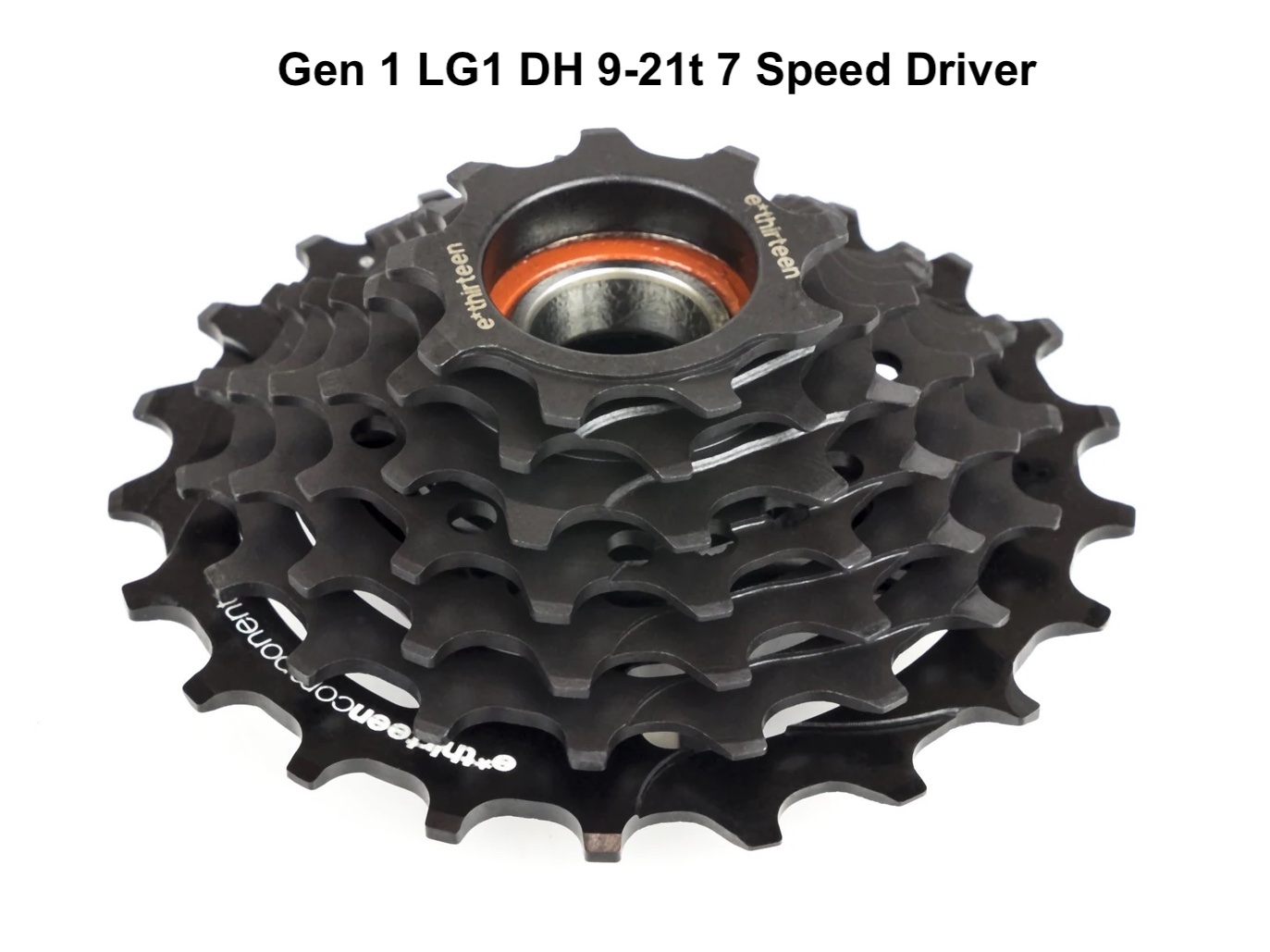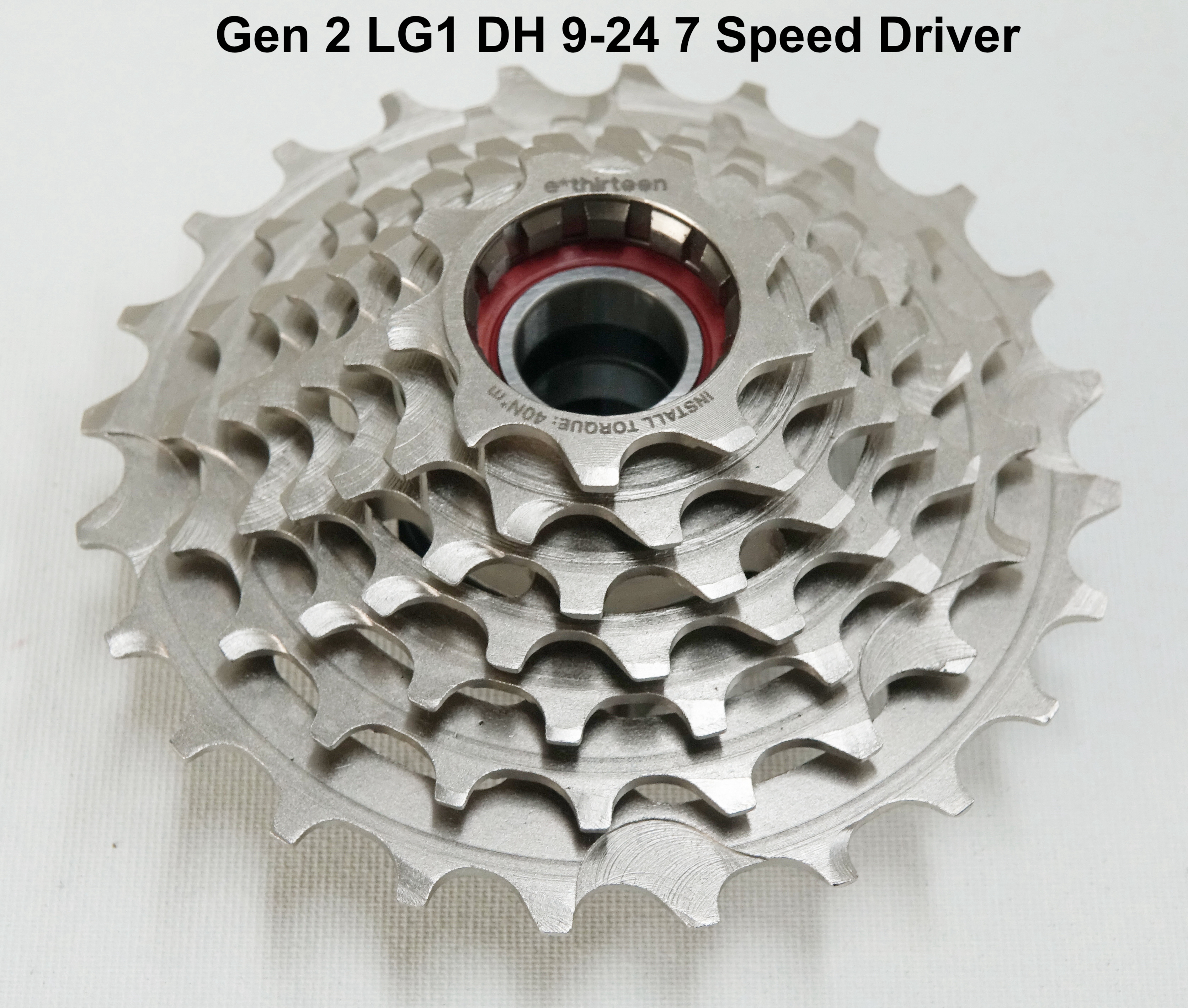 -------
About e*thirteen:
When the cycling world calls for reliable performance solutions, e*thirteen responds.
A global organization of expert designers, engineers, developers, manufacturers, marketers, sales teams, and customer service players, e*thirteen builds bold, best in class bicycle solutions for today and tomorrow's riders. After 20 years of building unique solutions across a variety of industry needs, e*thirteen is a leader providing bike retailers and riders high performing products with one goal – To stay true to the promise of fearless engineering for the best possible and most reliable ride.