TECHNICAL SERVICE BULLETIN #159
February 8, 2022
Provided By: e*thirteen Technical & Engineering Dept.
Direct Questions To: support@ethirteen.com
Download full TSB here: TSB 159
SRAM™ GX™ XD 1275 cassette bushing fit on e*thirteen SL XD™ driver bearing
THIS TECHNICAL SERVICE BULLETIN IS INTENDED FOR:
Distributors, dealers & end-users
PRODUCT INCLUDED
e*thirteen XD™ drivers with exposed outboard bearing found on SL hubs with alloy axles when used in conjunction with SRAM™ GX XD™ 1275 cassettes
PRODUCT NOT INCLUDED
e*thirteen XD™ drivers with exposed bearing when used in conjunction with any cassette other than SRAM™ GX™ XD™ 1275 cassettes

e*thirteen HG™ and Microspline™ drivers

e*thirteen SL XD drivers used on hubs with steel axles.
BACKGROUND
e*thirteen and other industry companies license the XD™ driver standard from SRAM™ and design XD™ drivers in accordance with that standard. The XD™ Standard can be found here:

https://www.xddriverbody.com/

. Specifications of the standard include a partially exposed driver bearing at the end of the freehub body.

Late 2021, e*thirteen was made aware of issues created when demounting SRAM™ GX™ XG 1275 cassettes installed on our SL XD™ drivers, when used in conjunction with alloy hub axles. SRAM™ cassettes incorporate a plastic bushing which interfaces with the exposed bearing on the end of the XD™ driver. The bushing found on the SRAM™ GX™ XG-1275 cassette is a tighter fit than ones found on other SRAM™ cassettes and can extract the bearing from the shell of the driver during the cassette removal process.
RECOMMENDED ACTION
Because the integrity of the bearing press in the driver is not impacted by bearing extraction from the cassette, YOU CAN simply press the bearing back in place in the driver with a small amount of Loctite 242 (or similar retaining compound) and reinstall the cassette using normal install procedure.
The correct spec for bearing protrusion with the SRAM™ XD™ Driver standard is 3.5mm +0.03mm/-0.53mm. A hard stop will be felt during the press operation once full insertion has been made.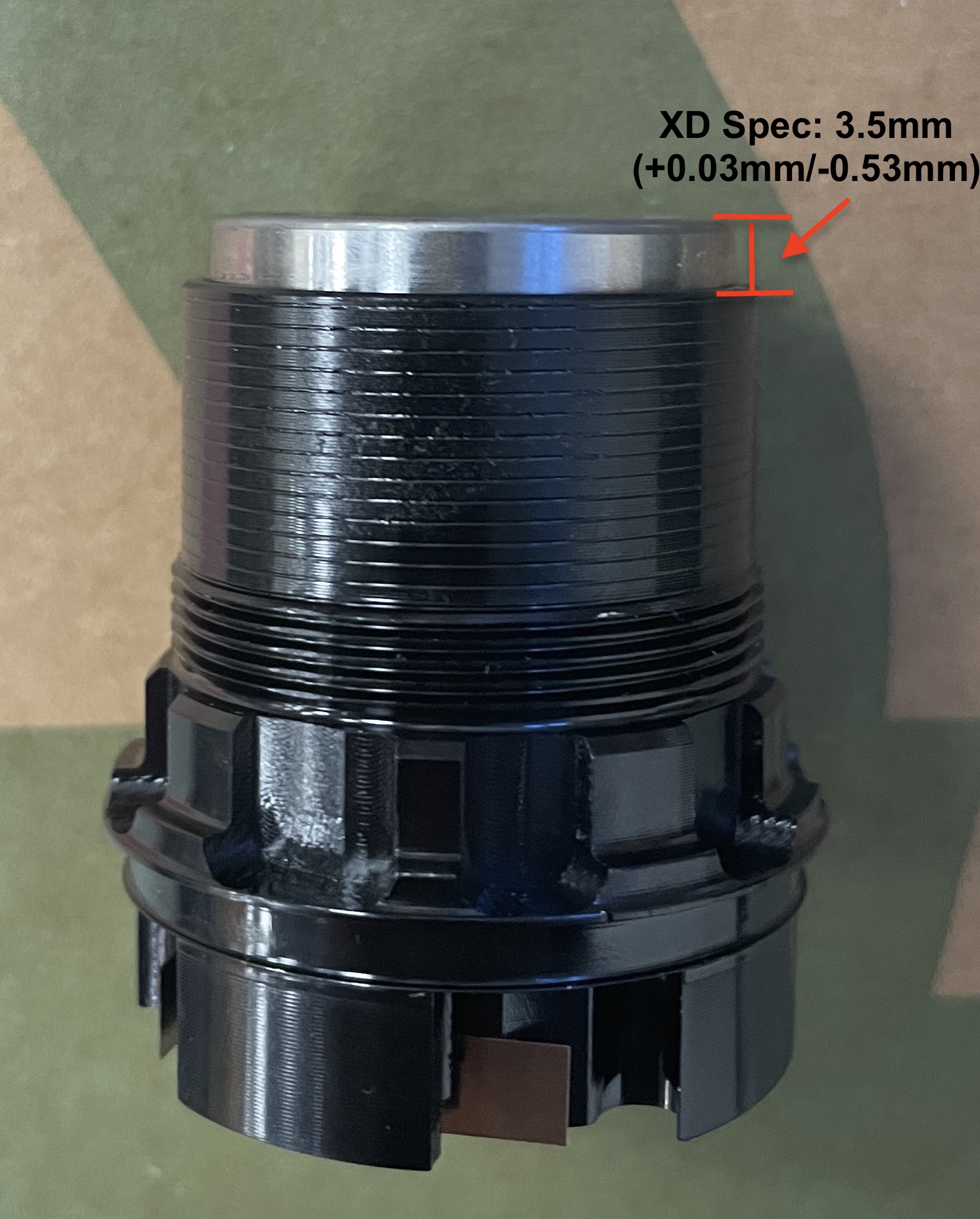 -------
About e*thirteen:
When the cycling world calls for reliable performance solutions, e*thirteen responds.
A global organization of expert designers, engineers, developers, manufactures, marketers, sales teams, and customer service players, e*thirteen is dedicated to building bold,"best in class" bicycle solutions for today and tomorrow's riders. After 20 years of building unique solutions across a variety of industry needs, e*thirteen is a leader providing bike retailers and riders high performing products with one goal – To stay true to the promise of fearless engineering for the best possible and most reliable ride.