TECHNICAL SERVICE BULLETIN #162
May 25,, 2022
Provided By: e*thirteen Technical & Engineering Dept.
Direct Questions To: Support@ethirteen.com
Download the full TSB here: TSB #162
Chain derailment on e*thirteen e*spec steel Bosch chainrings
THIS TECHNICAL SERVICE BULLETIN IS INTENDED FOR:
Distributors, Dealers & End-Users
PRODUCTS INCLUDED
e*thirteen e*spec steel Bosch chainring

34t Part# CR4USA-100

36t Part# CR4USA-101

38t Part# CR4USA-102
BACKGROUND
e*thirteen produces steel e*spec chainrings for Bosch Ebike motors with 34t, 36t, and 38t options.

We have received reports in the field of chain derailment to the outboard side of the chainring when the motor is in higher power modes and the chain is in the small cogs of the cassette.

e*thirteen believes chainline inconsistency originating at the spindle system or motor mount locations are the major contributing factors to this issue, combined with high torque (turbo) starts in a small cog. This issue has been reported across several bicycle brands using various manufacturers' chainrings.
RESOLUTION
The issue may be remedied by moving the chainline outboard by installing a 1mm spacer behind the e*thirteen steel e*spec chainring on the spindle or a wider chainline ring. The spacer location is shown in the image below.

e*thirteen will supply 1mm spacers free of charge to customers experiencing this problem. The spacer is not compatible with e*spec alloy chainrings, and no such issues have been reported with those rings.

Request a 1mm spacer through your sales rep, e*thirteen dealer, or directly through our support page here:

e*thirteen support request

.

Chainring lockring should be closely inspected and replaced if any signs of thread damage are present.
KEY POINTS
Chain derailment issues are present in a small number of cases when using e*thirteen e*spec Steel chainrings on e-bikes equipped with Bosch motors.

e*thirteen believes the root cause is a combination of chainline and motor torque in smaller cogs. Increasing chainline has proven to remedy the problem.

e*thirteen will provide a spacer to increase chainline and a replacement chainring for customers experiencing the issue in the field.

Find our user manual for Bosch e*spec crank and chainring install here:

Bosch e*spec User Manual

Install the 1mm spacer in the location shown in the diagram below: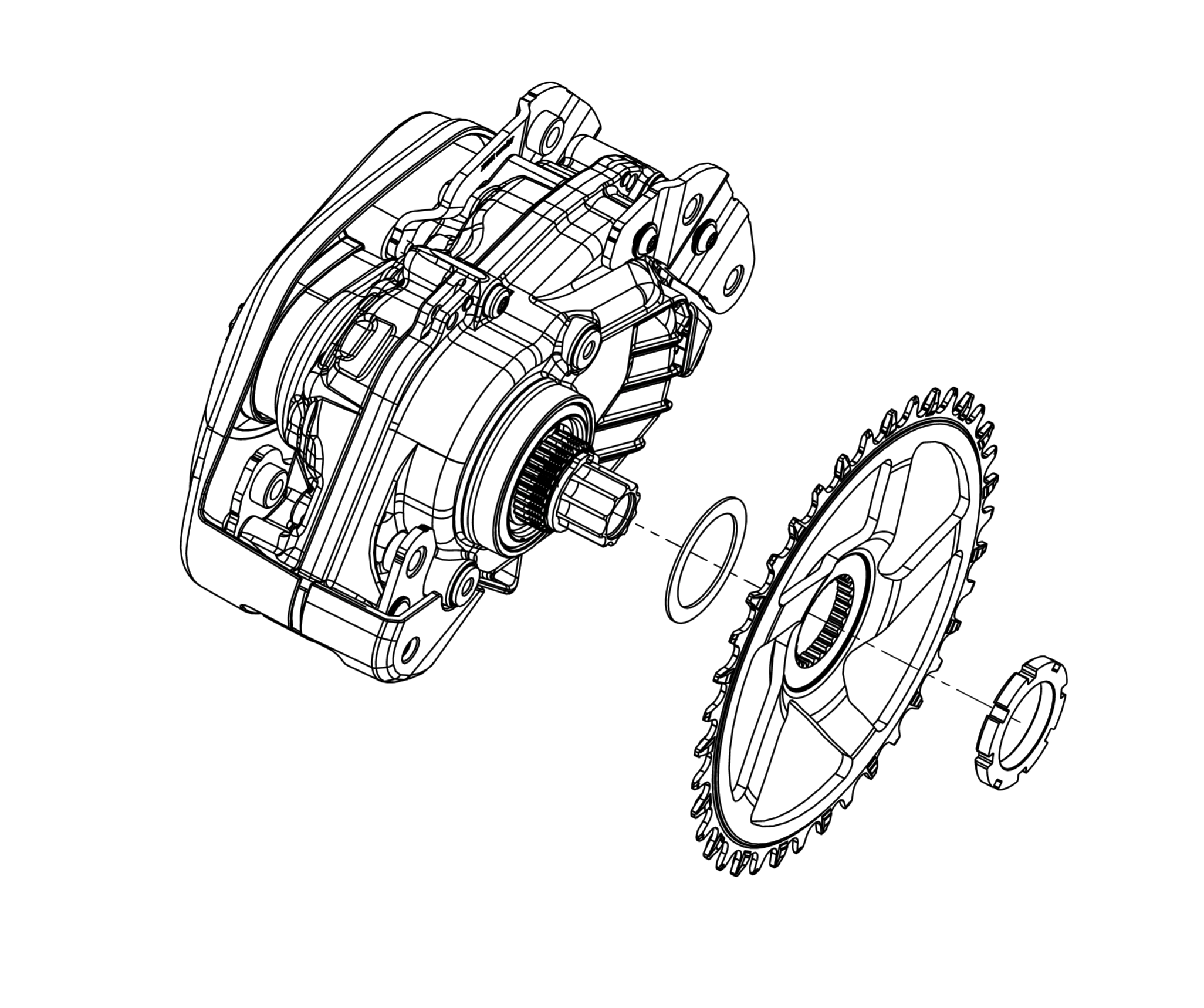 About e*thirteen:
When the cycling world calls for reliable performance solutions, e*thirteen responds.
A global organization of expert designers, engineers, developers, manufacturers, marketers, sales teams, and customer service players, e*thirteen builds bold, best in class bicycle solutions for today and tomorrow's riders. After 20 years of building unique solutions across a variety of industry needs, e*thirteen is a leader providing bike retailers and riders high performing products with one goal – To stay true to the promise of fearless engineering for the best possible and most reliable ride.